North Central Valley STEM Center
---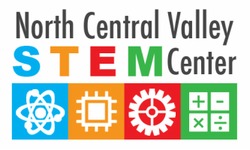 ​The North Central Valley STEM Center is a Regional Collaborative Partnership between area leaders in education, industry and businesses from throughout the Northern Central Valley and beyond. Our mission is to prepare our region to graduate the most STEM capable students. ​Please refer to our video below for more information.
---
---
Check out our promotional video!
---
2023 North Central Valley STEM Center Awards:
Nominations are now being accepted!
The teacher of the year award recipient will receive $1,000 and the CTE and STEM student scholarship award recipients will each receive $700 and $750 scholarship award respectively. The application deadline is
May 1, 2023.
---


​Summer Hire 2023 - Applications will be accepted in early 2023 for a Paid Manufacturing Summer Internship

Rare Parts, Incorporated in Stockton, CA in partnership with the North Central Valley STEM Center is pleased to again offer a paid summer manufacturing internship to an area junior or senior in high school. Rare Parts Inc is a manufacturer of steering and suspension parts for any make, model from 1920 until today. Applications are now closed for 2022 but will be available again in 2023.
---
---

Congratulations to our 2022 STEM Teacher of the Year, Tyler Ryan of Sierra High School in Manteca Unified School District!

---

---

Advisory Board


​Bret States, STEM Coordinator, SJCOE
Danell Hepworth, San Joaquin Delta College Division Dean
Myles Harris, Allstate Insurance Agent
Jeene Villanueva, LLNL Computer Scientist/Expanding Your Horizons Co-Chair
Sandra Starr, AP Environmental Science and Biology Teacher/Nor Cal Science Festival Coordinator
Patty Lopez, Inclusion, Diversity, Equity, & Accountability Team at Lawrence Berkeley National Laboratory



---
Some of our current partners include: